Feb 28, 2023
Post By Beyond the Limits Treks and Expedition
381 Views
The most interesting thing about these street foods is that they are prepared and served according to the weather.
Table of Contents
Kathmandu, the capital of Nepal, is known for its marvellous architecture, chaotic alleys, colourful festivals and majestic views but is lesser known for its street foods. Although these street foods are very close to Nepali culture and are enjoyed by people of all ages, it has not been able to make a name on the International market yet.
There are several places around Kathmandu where you will see local shops selling dishes with great aromas that are enough to make you crave the food even though you do not have any idea what is being cooked or served. The main thing about street food in Nepal is its flavour and richness of spices that are prepared to suit the palate of everyone. On this blog, Best streets food in Kathmandu you cannot miss out, we will include the popular street dishes of Kathmandu that are served in various location of Kathmandu and is worth travelling to.
Why street foods are famous in Kathmandu?
Unlike other cities of Nepal, Kathmandu has a street food culture meaning people make some time out of their busy daily schedule in the evening to gather around with their loved ones to chat and share street foods. Hence, as soon as the evening approaches, you can see stalls selling scrumptious foods like MOMO, stick foods, pakauda, chatpatey, panipuri and many more.
The affordability, taste, fast service, and variety served in a single place make street foods famous among almost every age group in Kathmandu. The most interesting thing about these street foods is that they are prepared and served according to the weather. If it's monsoon, Tato Tato jhol momo, Tato chiya and noodles are everyone's go-to food. And in summer, everyone likes eating light seasonal fruits seasoned with salt and spices and other dishes like sekuwa, chatamari, bara and many more. Apart from these, there are food items like panipuri, chatpatey, Sel roti, samosa, syavale, chatamari, Newari khaja set, dahi puri chat, local chips, fokso fry that are loved equally in all seasons.
When talking about the variety of food available in the streets of Kathmandu, we cannot miss mentioning the veg and non-veg items on the menu. If you are a non-veg, you can enjoy chicken, buff, pork, and mutton, while veg also has plenty of options to choose from according to your taste palate salty, spicy, or sweet.
One main thing to consider while eating in the street is to check whether the food is prepared following the food and safety protocols. A major concern is put forward by visitors trying panipuri for the first time when the vendor dips their bare hands in the tangy water and then serves it. Although most sellers now use plastic gloves, there are still a few places where they do not follow the protocols. Hence, no matter where you are eating, make sure that it is clean and will not make you sick later.
---
Top 10 Local Street Foods in Kathmandu
Well, by now you might have already pictured yourself in the alleys and streets of Kathmandu enjoying flavourful items, so without further ado, let's discover the top 10 street foods in Kathmandu that will surely awaken the foodie in you.
MOMO:
In Nepal, nothing can beat the craze and popularity of MOMO. The steamed bun Momo has fillings of minced vegetables or meat and is served with rich tomato-based chutney. The sweet aroma from the steamer in the corner shop of the city selling these delights is sure to make you drool. Over the years, Nepal has been serving varieties of Momo ranging from Tato Tato Jhol Momo to plain juicy steam momo and not to forget the tempting C. Momo. However, no matter what kind of Momo you order, you will enjoy the enriched taste of its fillings and crave it even more.
Since Momo is one of the comfort food of the Nepalese, it can be found everywhere, from five-star restaurants to street stalls, but few places around Kathmandu are known for having the best momo and chutney. Places like Narayan dai ko Massangalli ko famous Momo pasal in Basantapur, Shandar momo in Sorhakhutte, Everest momo near Saraswati campus in Thamel, Delicious Momo near Nachghar, Jamal are known for their mouthwatering momo and chutney.
✔ Average Price per plate: NRs. 150 to 300 depending upon veg/non veg and momo type (fried/steam/c. momo).
Sekuwa:
Sekuwa is another popular dish among meat lovers. Prepared by roasting meat seasoned and marinated with natural herbs and spices, Sekuwa gives an everlasting aromatic taste of the natural firewood used for roasting. The meat used for sekuwa can be chicken, goat, pig and buffalo and are fresh, soft and juicy. There are plenty of places around Kathmandu selling authentic sekuwa, like Fast Food Newari Khaja Ghar located in Dillibazar, Aunty's sekuwa corner in Basantapur, Bajeko sekuwa in Sorhakhutte, and Yangtaru Sekuwa Corner in Saraswatinagar, Chabahil. Usually, sekuwa is eaten as a snack for drinks or as lunch served with beaten rice/puffed rice, pickle, and lemon.
✔ Average price per plate: NRs. 200-400 (Aunty's sekuwa corner sells sekuwa at just Rs. 40-60 per stick)
Papdi Chatt:
Papdi Chatt is one of the best street snacks in Kathmandu. The sweet and tangy taste of papdi chatt has won the heart of many to date. Unlike other popular foods of Kathmandu, Papdi chatt is available in small local shops and street stalls than in fancy places. Out of all the shops selling papdi chatt in Kathmandu, Ram Lal Papdi Chatt in Newroad near Suraj Arcade has a big hype in town.
Papdis used in Papdi chatt are crispy chips made from wheat or all-purpose flour dough. The papdis are mixed with chickpeas, tomato, boiled potatoes, onion, sweet and sour tamarind chutney, peanut, and crunchy sev and garnished with fresh coriander. The resulting mixture of all these ingredients gives mouthwatering textures and flavours.
Other than Ram Lal Papdi Chatt, you can also visit the Pappu chatt centre in Old Baneshwor, Rameshwaram sweets and snacks in Battisputali beside Dwarika hotel to enjoy the richness of the chatt.
✔ Average Price per plate: NRs. 100 to 150
Sel Roti:
Commonly known as a Nepali doughnut, Sel roti is prepared by mixing rice flour with water, sugar, and ghee. The batter made from the mixture is then deep-fried in the boiling oil till it turns light brown and gives a crispy texture. The roti is round-shaped and is usually served as a snack with aloo tarkari or tea.
Selroti is very common in the households of Nepal and is an iconic symbol of Nepali culture as it is prepared for important occasions like marriage, puja, and other religious ceremonies and festivals like Maghe Sankranti and Tihar. Since this food is popular in Nepali household, you can now see this delicacy in local shops and streets of Kathmandu, especially early in the morning in Ason and Indra Chowk. The sweet roti served with aloo tarkari and tea is appetizing and appealing is a popular local food in Nepal.
To enjoy Sel roti, visit Ason early in the morning or go to Lokpriya selroti bhandar in Samakhusi, Kapurdhara or other local eateries in Kathmandu.
✔ Average price per piece: NRs. 20-30
Chatamari:
The Newari dish, Chatamari is also called pizza due to its crunchy crust of rice flour and toppings of eggs, minced chicken, or buff, together with onions and tomatoes. The topping used in the Chatamari is seasoned with rich Nepali spices to give flavour and amazing texture to the dish.
You can enjoy both veg and non-veg chatamari, as the only difference is the toppings. Veg chatamari has toppings of vegetables like mashed potatoes, boiled beans, onion and tomatoes. It takes around 3-5 minutes to cook Chatamari. There are many small eateries in Kathmandu selling chatamari, but the ones served in Shanvi chatamari corner in Naya Bazar and Chatamari Chen in Basantapur opposite Atkonarayan Mandir are very popular among the locals.
✔ Average price per piece: NRs. 100-150 (Depends on toppings
Panipuri and Chatpatey:
When we are talking about the street foods of Kathmandu, we cannot miss everyone's favourite panipuri and Chatpatey. These two street snacks do not need any introduction and are enough to send our taste buds on a journey to heaven with the flavours you can enjoy in each bite.
Panipuri is crispy fried balls stuffed with boiled potatoes, chickpeas, chillies, peanuts, onion, and spices served with spicy, tangy water to give bursts of taste and flavours of water and the fillings.
On the other hand, chatpatey is prepared by mixing puffed rice with other items like onion, green chilly, coriander leaves, cucumber, peanut, chickpeas, boiled potatoes, tomatoes, and other spices together with red sauce that gives an appealing look to the mixture. When all of it is mixed with lemon juice, the outcome is mind-blowingly tasty, and flavour packed. Both panipuri and chatpatey are known as refreshing snacks among the youngsters of Nepal. Most local shops and stalls have a long queues of people waiting for their turn to enjoy this flavoursome snack.
Although you can find plenty of stalls selling chatpatey and panipuri in Kathmandu, Om Pani Puri Chat centre near People's plaza in New road and Special Om Gupta Panipuri nera CTC mall gate is quite popular.
✔ Average price per plate: NRs. 50-80
Lassi:
If you plan to visit Kathmandu Durbar Square from Ason, you will come across Indrachowk ko Lassi Bhandar, the famous Lassi pasal. Usually, a huge crowd can be seen in front of the lassi shop, with people buying or enjoying the refreshing cup of Lassi, whether it's summer or winter.
Although you can order and enjoy this drink in almost every local shop and restaurant, the one served in Indrachowk is the finest and cannot be compared to what you get in other places. Although it is a simple curd-based smoothie, the one you get in Indrachowk is consistently creamy, and the toppings of raisins, cashews, and khuwa make it even more enjoyable and milky. I bet you will not mind asking for a second cup after enjoying the first one.\
✔ Average price per cup: Rs. 50-100 (depending upon cup size)
Local Chips: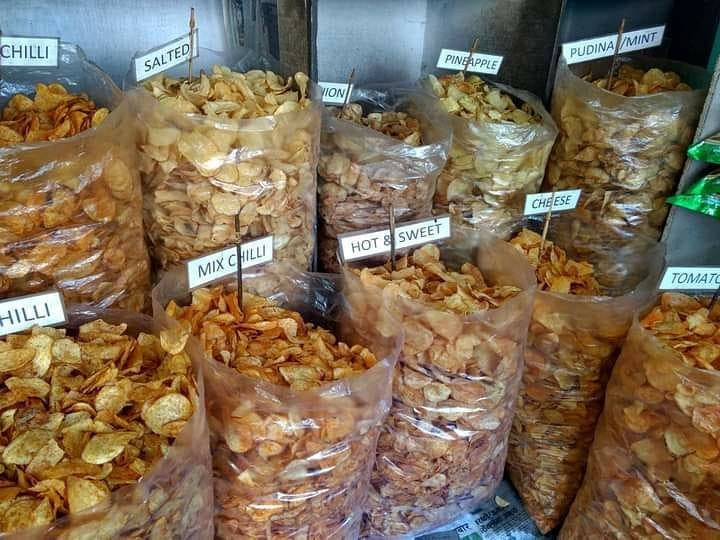 Crisps are something we crave even when our stomach is full. And the availability of different flavoured chips like potato, banana, mango, cheese, tomato, pineapple, hard chilly in the street of Kathmandu has made people go gaga.
The fresh deep-fried chips seasoned with additional flavours and spices are so addictive that you can end up eating them instead of dinner, and that's what many youngsters in Nepal experience when they munch the local chips of Pimbahal fresh potato chips corner. The shop is also located in Kaldhara Marg and serves a wide variety of chips flavour and dalmot. Other than the famous Pimbahal's chips, other stores around Kathmandu Durbar square selling chips are worth the walk.\
✔ Average price per packet: NRs. 50-100
Jerry Swari: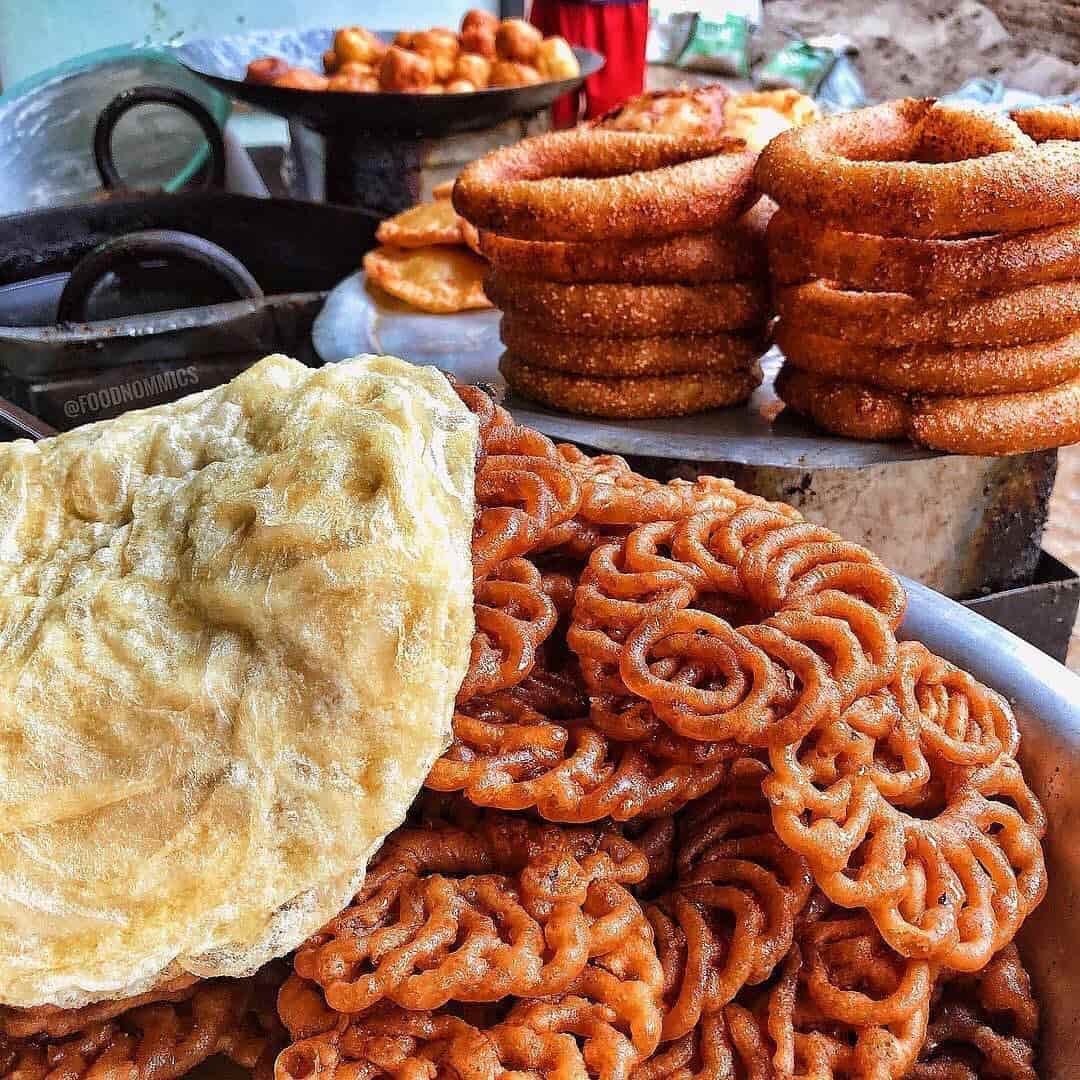 Nepalese undoubtedly have sweet teeth and are ready to eat anything with high sugar content. And hence, that's when the jerry swari makes an appearance. Jerry is one of the most loved sweets in the Nepali household and can also be seen as a dessert at marriage or other cultural events.
Although the pretzel-shaped deep-fried and sweet syrup moulded jerry is enough to make you lost in the sweetness, it becomes even more delightful when you wrap it with a paper-thin flatbread called swari. The dish is so good that you will crave it once in a while cause tato tato jerry melts in your mouth, leaving an everlasting sweetness. You can get Jerry swari in almost every sweet shop around Kathmandu. However, you can try Tip Top in New road, known for its quality and taste of different sweets and snacks including samosa, another much loved snack of Nepal.
✔ Average price per piece: NRs. 30-50
Fokso Fry:
Fokso is the Nepali name for lungs and is very delicious when cooked properly. The Fokso fry you will see in the streets of Kathmandu are prepared from the fresh lungs of goat that are cleaned thoroughly and stuffed with a batter prepared by mixing all-purpose flour, water, eggs, spices, ginger garlic paste and deep fried in the oil by closing its opening.
Once the lungs are fried, they are chopped into smaller pieces and shallowly fried on both sides till brown to give a crunchy texture. The fokso fried can be a snack for drinks or a side dish, especially when served with fresh chutney.
You can enjoy this dish around Basantapur near the Lassi Pasal or at Shyam Dai Newari Khaja Ghar in Kuleshwor.
✔ Average price per plate: NRs. 60-100
---
Conclusion
There are several Nepali cuisines that are connected with Nepali culture and tradition. Hence, to know in detail about the foods and to enjoy the delicacies of Nepal, plan your next trip with us, and we will organize a food hunt tour so that you can savour as many amazing and unique dishes as you can during your Nepal visit.

More Interesting Blogs:
▪ 6 Things not to Miss while you are in Nepal
▪ Best Places to Visit with Family During Winter Season
▪ A Must Visit Tourist Place in Kathmandu in 3 Days
▪ Best Things to Do in Pokhara