About Short Annapurna Base Camp Trek 6 Days
The Annapurna short trek is a mesmerizing journey that showcases the best of Nepal's natural beauty. Whether it's the breathtaking snow-capped peaks or the verdant valleys, the trek promises an unforgettable experience. The short abc trek ensures comfort, safety, and an intimate connection with the heart of the Himalayas.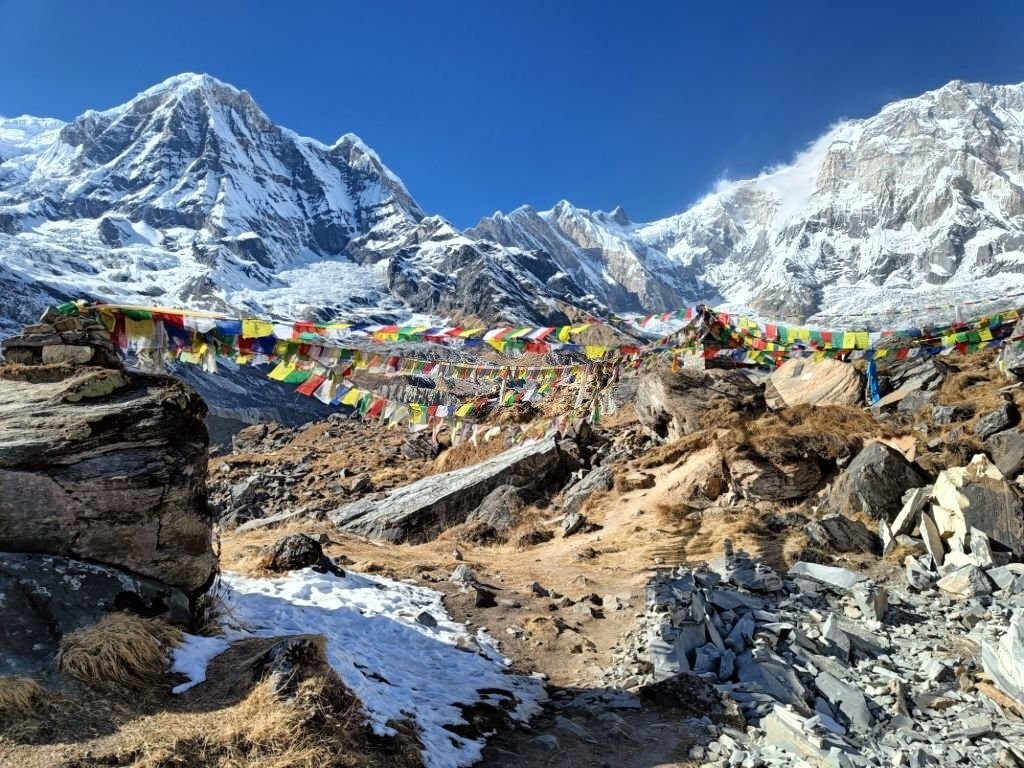 What Does Short ABC Trek Entail?
Picture this: waking up to the chirping of birds in a quaint mountain village, walking alongside meandering rivers reflecting the azure skies, crossing wooden bridges adorned with colorful prayer flags, and constantly being in the shadow of towering snow-clad peaks that seem to pierce the heavens. You experience the rich culture of Nepal, as you engage with the warm and hospitable Gurung and Magar communities. You get a firsthand taste of their traditions, folklore, and way of life.
Why Choose the Annapurna Base Camp Short Trek?
Apart from its time efficiency, the Annapurna base camp short trek, ensures that trekkers get an all-encompassing experience. It's not about rushing from point A to B, but about savoring every moment, every view, every interaction.
From the moment you set foot in Pokhara to the triumphant day you gaze upon the Annapurna Massif from the base camp, the journey is a symphony of experiences, with each day being a different note, yet all harmoniously coming together to create a melody that you'd cherish for a lifetime.
Difficulty of Annapurna Base Camp Short Trek
The Annapurna base camp short trek is a mesmerizing voyage into the heart of the Himalayas. But, like any adventure in rugged terrains, it's essential to understand its challenges. It ensures that you not only have an enjoyable experience but also a safe one.
Physical Demands
While the short ABC trekking is a condensed version of the longer treks, it still requires a moderate level of physical fitness. On average, trekkers will walk 5-7 hours daily, encountering varied terrains from flatlands, and gentle slopes to some challenging uphill sections. The altitude, while not as demanding as some higher Himalayan treks, still reaches up to 4130m at the Annapurna Base Camp. Hence, it's essential to be aware of altitude sickness and its symptoms.
Technical Challenges
One of the highlights of the Annapurna short trek is that it does not present any technical challenges. There's no requirement for specialized mountaineering equipment or skills. There are no treacherous icefalls or crevasses to navigate. The paths are well-trodden, and wooden bridges and stone steps aid in crossing rivers or steep sections.
Mental Preparedness
While the body's readiness is crucial, mental preparedness is equally significant. Trekking, by nature, is as much a psychological challenge as a physical one. There might be days when the weather is not ideal, or you might feel the fatigue setting in. Being mentally resilient, maintaining a positive attitude, and taking things one step at a time can make a world of difference.
For whom is the Short ABC Trek?
Whether you're a seasoned trekker looking for a quick Himalayan escapade or a novice eager to test the waters of mountain trekking, the short ABC trek is your calling.
Beginners: Those who are new to trekking but have a reasonable level of physical fitness. It's a great introduction to the world of Himalayan trekking.
Time-bound adventurers: For those who are short on time but high on spirit. Experience the grandeur of the Himalayas without the commitment of a longer trek.
Families: With adequate preparation, even families with teenagers can undertake the short ABC trekking. It's a brilliant way to bond and introduce young ones to the magic of the mountains.
Seasoned trekkers: Even if you've conquered higher peaks, the Annapurna short trekking offers unique landscapes and cultural experiences that are hard to match.
The Short ABC Trek is not about how fast or how far you can go; it's about the journey, the memories, and the connection you forge with nature. With Beyond The Limit Treks guiding the way, you're in safe hands, ensuring that the journey caters to your pace and comfort.
---

Best Season for Annapurna Base Camp Short Trek:
Choosing the right season for the Annapurna base camp short trek is as pivotal as packing the right gear. The Himalayas, with their towering peaks and vast terrains, experience diverse climatic conditions, which can significantly impact your trekking experience. Below are listed the best seasons to undertake the Annapurna short trek.
Spring (March to May):
Pros:
Flora in Full Bloom: Spring brings with it a riot of colors as rhododendrons, Nepal's national flower, bloom in abundance, painting the trails in hues of red, pink, and white.
Pleasant Temperatures: The warmth of spring ensures daytime temperatures are comfortable for trekking, while nights remain cool without being excessively cold.
Clear Skies: Expect to have unobstructed, panoramic views of the Annapurna Massif, with clear blue skies serving as the perfect backdrop.
Cons:
Slightly Crowded: Being one of the preferred seasons for trekking, trails might be a bit crowded.
Autumn (September to November):
Pros:
Stable Weather: Post the monsoon, the skies clear up, and the weather stabilizes, making it ideal for trekking.
Vibrant Landscapes: The monsoons leave behind lush green terrains, making the trails particularly picturesque.
Festive Vibes: Autumn is a time for major Nepali festivals like Dashain and Tihar, allowing trekkers a glimpse into the rich cultural celebrations.
Cons:
Peak Season: This is the most popular trekking season, so expect trails and teahouses to be bustling with trekkers.
Winter (December to February):
Pros
Serene Trails: If you're seeking solitude, winter is the best time. Less people use the routes, making for a more pleasant trekking experience.
Snow-Capped Beauty: Higher altitudes are blanketed in snow, adding an ethereal charm to the landscape.
Cons
Cold Temperatures: Especially at higher altitudes, temperatures can drop significantly, demanding better cold-weather gear.
Possible Snow Blockades: Heavy snowfall might block some trails, making trekking challenging.
Monsoon (June to August):
Pros
Less Traffic: Fewer trekkers choose this season, ensuring quieter trails.
Greener Landscapes: The rains rejuvenate the forests, making them lush and vibrant.
Cons
Rain & Leeches: Frequent rain can make trails slippery, and the wet conditions are ideal for leeches.
Clouded Views: The persistent mist and clouds might obstruct mountain views.
While Spring and Autumn emerge as the most popular seasons for the Annapurna base camp short trek, each season has its unique offerings. Your choice should align with your preferences, whether it's witnessing the vibrant flora, experiencing local festivals, seeking serene trails, or embracing the challenges of winter. Whatever the season, Beyond The Limit Treks ensures your journey is safe, enjoyable, and memorable.
---
Permits Requirements for Annapurna Short Trek:
Embarking on the Annapurna short trek is not just about lacing up your trekking boots and setting off into the wilderness. Like many treks in Nepal, certain permits are essential to ensure the conservation of these pristine environments and to contribute to the local communities.
1) Annapurna Conservation Area Permit (ACAP): The primary objective of ACAP is environmental conservation. The fees go towards maintaining the ecological balance of the region and supporting sustainable tourism.
2) Trekkers' Information Management System (TIMS) Card: Purpose: Introduced to ensure the safety and security of trekkers, the TIMS card helps authorities track and locate trekkers in case of emergencies or natural calamities.
3) Local Village Permit: For some regions within the Annapurna Conservation Area, local village committees may require trekkers to purchase an additional permit. It is to support infrastructure development and welfare initiatives within their communities.
These permits make every trekker a part of the broader effort to sustain the beauty and integrity of the Annapurna region. Beyond The Limits Treks assists in procuring and managing all required permits for you.
---
Types of Accommodation During Short Annapurna Trek:
One of the key aspects to consider while embarking on the short Annapurna trek is the type of accommodation available en route. The Annapurna region, being one of the most popular trekking destinations in Nepal, offers a range of accommodations to cater to varied preferences and budgets.
1. Teahouses:
Teahouses are the most common type of accommodation during the short Annapurna base camp trek. These are family-run establishments that provide basic lodging and meals.
Rooms: Generally, rooms in teahouses are twin-sharing with two single beds, blankets, and a pillow.
Amenities: Most teahouses have shared bathrooms. Hot showers might be available at an extra cost.
Dining: They serve a variety of dishes, from traditional Nepali food to popular international cuisines. Expect to find staples like dal bhat, momo, and noodle soups.
Tips: As you ascend to higher altitudes, teahouse facilities become more basic. Booking ahead during peak seasons can be beneficial.
2. Homestays:
Experience authentic Nepali culture by staying with local families. Homestays offer a unique opportunity to immerse oneself in local traditions and customs.
Rooms: Typically, you'll be provided with a private room within the family's home.
Amenities: Expect basic facilities, similar to those in teahouses.
Dining: Meals are home-cooked by the family, offering an authentic taste of local cuisine.
Tips: Homestays are a perfect way to engage with locals, understand their way of life, and share stories.
3. Guesthouses and Lodges:
A step above teahouses, guesthouses, and lodges offer slightly better facilities and comfort.
Rooms: Rooms can range from basic to semi-luxurious. Some might even offer ensuite bathrooms.
Amenities: Many have in-house restaurants, lounges, and even Wi-Fi in some cases.
Dining: These establishments offer a more extensive menu compared to teahouses, with a mix of Nepali and international dishes.
Tips: Ideal for those looking for added comfort without breaking the bank.
4. Luxury Resorts and Hotels:
While limited, there are a few luxury accommodations available in the lower regions of the trek, particularly around Pokhara.
Rooms: Well-furnished, spacious rooms with heating, and often with mountain views.
Amenities: Ensuite bathrooms, spa services, Wi-Fi, and sometimes even a swimming pool.
Dining: Gourmet dining experiences with a choice of international cuisines.
Tips: Perfect for trekkers who wish to start or end their journey with a touch of luxury.

Wrapping Up:
The allure of the Himalayas is undeniable. With its majestic peaks, diverse flora and fauna, and rich local cultures, the Annapurna base camp short trek offers an unparalleled trekking experience compressed into a concise six-day adventure. From the quaint beauty of Ghandruk to the awe-inspiring panorama at the Annapurna Base Camp, every step is a story, every vista a masterpiece.
Choosing the right guide for this journey is paramount. Beyond The Limit Treks doesn't just offer a trek; we offer a deep dive into the heart of Nepal. With years of expertise, local knowledge, and an unwavering commitment to our trekkers, we ensure that every moment of your journey is curated to perfection. Our Annapurna short trekking package is crafted with meticulous attention to detail, ensuring safety, comfort, and an immersive experience. Contact us and make a booking now.
---