About Everest Base Camp Trek with Helicopter Return
Discover one of Nepal's most famous treks with a twist! See the incredible Everest region up close, trek on some of the most remote trails, visit famous Everest Base Camp and instead of trekking back, enjoy a relaxing and scenic helicopter flight to Lukla overseeing the entire trail.Beyond the Limits Trek and Expedition takes you on the Everest Base Camp trek with a helicopter return from Gorakshep to Lukla.
Kathmandu and Trek Preparation:
It all starts with a wonderful trip in Kathmandu, Nepal's capital city. Before heading out to Everest, Beyond the Limits takes you on a guided sightseeing tour throughout Kathmandu city. Visiting some of its most popular and ancient landmarks the trip just gets better and better! Holding also a detailed trek preparation and briefing session Beyond the Limits makes sure you are ready to head out in to the Himalayas. After having checked your trekking gear, having gone over the itinerary, talked about safety during the trek and having gone on an exciting guided sightseeing tour we turn in for the night.
Lukla and the trek to EBC:
On the 3rd day of the Everest Base Camp trek with helicopter flight back, it's time to depart for Lukla the starting and ending point of the trek. Transferring in the morning after breakfast to the national airport is crucial as depending on the weather flights can get delayed. Making sure we catch our flight, we head to the world's 38th highest airport in Lukla. The flight is quite scenic and the landing thrilling if not adventurous. Having safely landed at Lukla it's time to meet up with our porter team. The supermen of the Himalayas who will be carrying most of the luggage during the trek to Everest Base Camp. After a final check and enjoying some of the spectacular first views we head out to Phakding village. At the first part we'll be mostly descending down towards an elevated trail leading alongside the Dudh Khosi River. The way is quite easy and a great way to get accustomed to the terrain. A good few hours of trekking takes us straight to the village waiting for us at the end of a long suspension bridge.
The next day we make our way to Namche Bazaar (3,440m/11,286ft). Also known as the Sherpa capital of the region it takes a while to reach here. Mostly descending we make our way to Monjo, a small village at the gate of the Sagarmatha (Everest) National Park. After a permits check we continue and head further up passing by Jorsalle and ultimately reaching Namche Bazaar. Acclimatization is an important part of the trek as we are aiming to head up to a max elevation of 5,545m/18,192ft during this trek! Namche Bazaar makes for the perfect spot for our first acclimatization day, and we'll spend the day exploring around town, and taking a hike up to the famous Everest View Hotel, from where you'll get your first nice views of Mt Everest and its neighboring peaks. We can also hike down to the Khumjung Valley and explore around Khumjung village for a more authentic experience.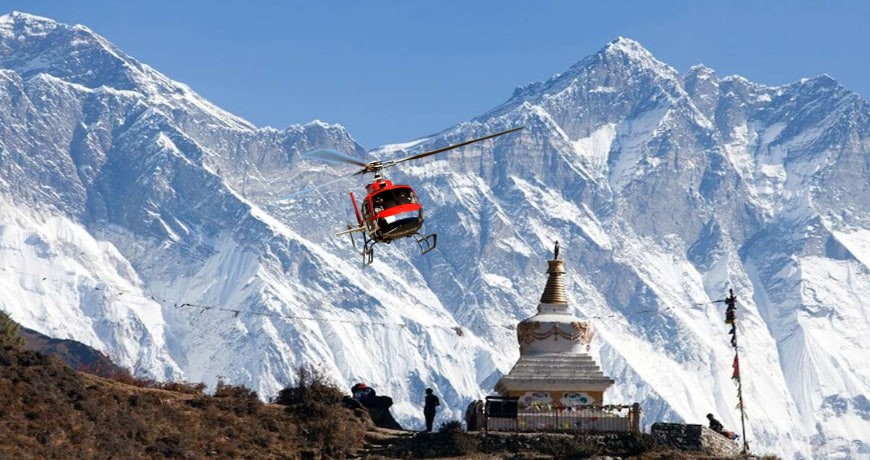 The trek to Everest Base Camp continues the next day as we trek to the biggest monastery of the region at Tengboche. Surrounded by snowcapped Himalayas this monastery is truly a piece of art, and harmony. Continuing on our next stop is also our second acclimatization rest place. We head for Dingboche at 4,450m/14,5910ft. Located in the Imja Khola Valley this day of trekking is truly incredible.
With more Himalayan mountains coming in view and incredible sceneries appearing we make our way slowly but steadily towards the village. For our 2nd acclimatization hike we head up the famous Nagarsang Peak. This will help us acclimatize for the next few days as well as offer you some amazing views. From Dingboche it takes another day to reach Lobuche, a famous crossroad village for trekkers heading towards Gokyo as well as Everest Base Camp. It's just a few hours of trekking to reach Gorakshep (5,170m/16,962ft) from Lobuche. This is the last stop before reaching Everest Base Camp! Following a part of the Khumbu Glacier and heading higher and higher we reach Gorakshep and check in to our lodge/ tea house. Dropping all heavy bags, it's time for the final push to Everest Base Camp. Traversing rocky and barren terrain it's a short trek to reach the world's most popular base camp and soon the many tents filling base camp appear as well as a famous rock with red letters displaying Everest Base Camp. Congrats, you have made it! Everest Base Camp in all its glory. We enjoy the views and our great sense of self-accomplishment before making our way back to Gorakshep. While we plan for an early morning sunrise view from Kala Patthar, Beyond the Limits also offers you to hike up to Kala Patthar for an even more stunning sunset view over the Himalayas.
Why trek back when you can fly back?
As a twist to the Everest Base Camp trek, Beyond the Limits has booked a chartered helicopter to take you back to Lukla from Gorakshep. Taking off from the Himalayas and flying back over the same trail is just amazing. Seeing the Himalayas and the entire region from a bird's eye view is spectacular makes the entire trip to Everest that much worth it!
Back at Lukla we take our time to rest and do some last exploration of the town as the next day we fly back to Kathmandu to conclude the Everest Base Camp trek with helicopter flight back.
---
Everst Case Camp Trek FAQ's:
1) Do I need to bring any cash during the trek?
It is best to bring enough cash for your day to day trek in the Everest region, either Nepalese Rupees or American Dollars are accepted in most shops. There are few ATMs available in Lukla and Namche Bazaar but are not reliable. Estimate a 10 dollars a day for extras such as snacks, drinks, Wi-Fi usage, etc. in our experience we suggest to lookout for Nabil Bank ATMs as they have the least service charge per withdrawal.
2) Is there any Wi-Fi connection while trekking?
During the Everest Base Camp trek there will be Wi-Fi connection available in most lodges/ tea houses. They do charge for the usage and this rate increases the further up you go. Using a mobile sim of Nepal you might have a change to connect with mobile data in the lower elevations.
3) How is the food during the trek to Everest Base Camp?
Food during the Everest Base Camp trek varies between traditional Nepalese and Sherpa dishes as well as some international dishes such as hamburgers, pasta or even pizza. Beyond the Limits does recommend you to eat veg items at the higher elevations, to prevent any discomfort during the trek. Try out the famous Sherpa stew or the classical dhal bhat tarkali, a Nepalese dish of steamed white rice covered in a blanket of hot lentil soup with seasonal veg and a spicy pickle sauce!
4) Should I get souvenirs during the trek or back in Kathmandu?
While Lukla, and Namche are filled with souvenir shops, you can always buy the same items at a cheaper rate back in Kathmandu. If you feel like supporting the local communities of the Everest region you can always buy some things from the local villages, but the choice is yours.
5) Do I need a guide to trek to Everest Base Camp?
As of a new rule a licensed guide is required to trek in the Everest region from above 3,000m/9,843ft (Namche Bazaar). Beyond the Limits includes a professional, English speaking guide during the entire trek to Everest Base Camp. Who will make sure you reach every destination safely as well as explaining about the various Himalayas, communities and natural phenomena of the region.
6) Is there any risk trekking to Everest Base Camp?
With treks going above 3,000m/9,843ft there is always a safety risk. People can get lost, fall, or in worse case scenarios suffer from acute mountain sickness. In order to prevent any of the above, Beyond the Limits holds a details trekking safety briefing, explaining the customs of trekking, how to make way for yak caravans, and most important how to prevent AMS. Furthermore, with holding two acclimatization days at strategic locations you are sure to acclimatize properly and avoid any chances to get acute mountain sickness.
---