About Annapurna Circuit Trek 15 Days
The Annapurna Circuit Trek, situated in the heart of the Himalayas, is a captivating journey through some of Nepal's most stunning landscapes. Annapurna Circuit Trek is one of the Top 10 Popular Treks in the world. During this trek, you can see the several naturally decorated gadgets that please the eye and take the heart of every trekker. In the Annapurna circuit trek a stunning glimpse of the beautiful mountains of the region such as Mt Annapurna I, II, III (8,091m), Mt Dhaulagiri(8,167m), Machhapuchhre(6,998m), Nilgiri(7,041m), Himchuli(6,441m), Tukuche Peak(6,920m), Mt. Lamjung Himal(6,986m) always give pleasure to the trekkers which help to make their long journey memorable. Moreover, beautiful landscapes, valleys, green hills, dense forests, artistic waterfalls, tranquil lakes, pristine rivers, gorges, sacred temples, colorful monasteries, and Gompas are the other attractions of the Annapurna circuit trekking.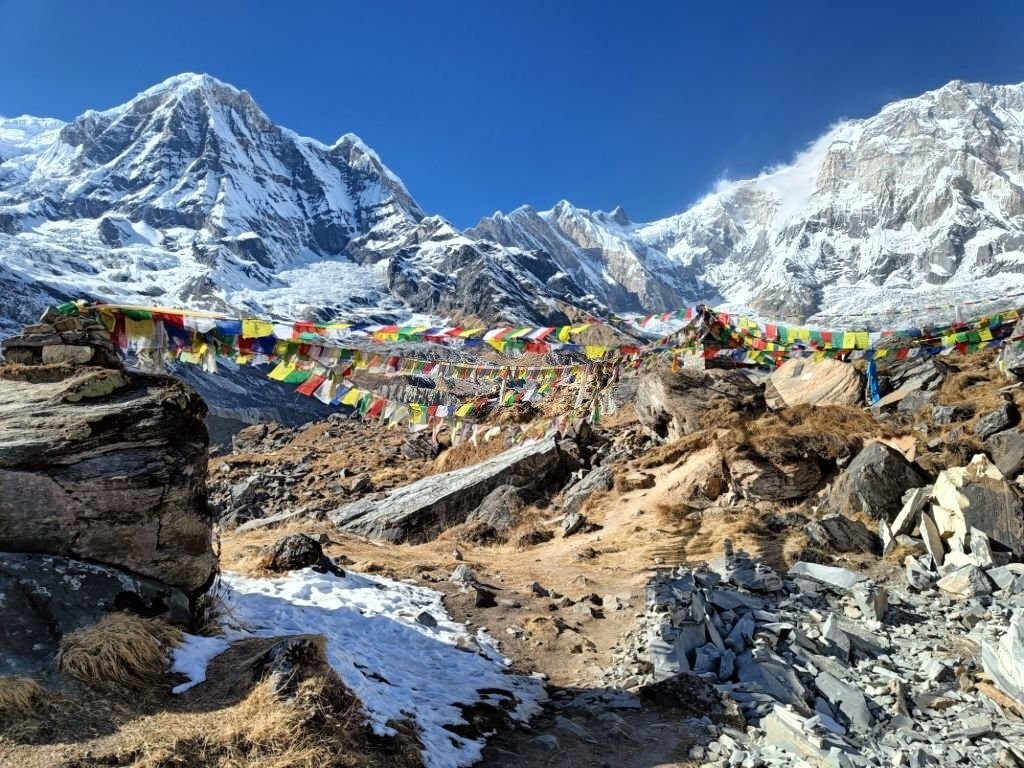 Annapurna Circuit Trek Package:
This Trekking is an adventurous and romantic trek that gives an amazing experience of the low land of Manang to the high land of Thorang La Pass. The Annapurna circuit is also called the Annapurna round trek because this trek completes the round journey of the Annapurna region. Annapurna circuit trek starts from Lamjung district and ends in Kaski. Trekkers around the world frequently go for this trek because of its unbelievable natural beauty and diverse cultural attractions. One of the prominent features of this trek is that during the Annapurna circuit trek trekkers can feel the unique experience because this trek starts from the very lush landscapes of the Lamjung district and gradually reach the totally barren landscapes of Manang and Mustang district. Annapurna circuit trek offers beautiful landscapes, valleys, green hills, dense forests, artistic waterfalls, tranquil lakes, pristine rivers, gorges, temples, monasteries, and Gompas situated in five districts Lamjung, Manang, Mustang, Myagdi, and Kaski districts.
The Annapurna Circuit Trek is also a spiritual journey, with many sacred temples, colorful monasteries, and Gompas that offer insight into the Hindu and Buddhist way of religious rituals. The trek starts in Besisahar and ends in Nayapul, taking trekkers through some of the most beautiful and important places in the region. With its stunning natural beauty, diverse culture, and spiritual significance, the Annapurna Circuit Trek is an unforgettable experience that should be on every trekker's bucket list.
Benefits Of Annapurna Circuit Trek with Beyond the Limits:
Flexible Itinerary
First Aid Kit for Emergencies
24/7 available for communication
Decades of experienced guides
Rents for hiking shoes, sleeping bags, and other equipments
Satellite Call in large groups (more than 10) for treks.
Many platform of communication(Email, Whatsapp, Viber, Facebook, Instagram, WeChat)
Oximeter to check your pulse and oxygen level during trek in high altitudes
Easy booking and reservation System
Simple payment scheme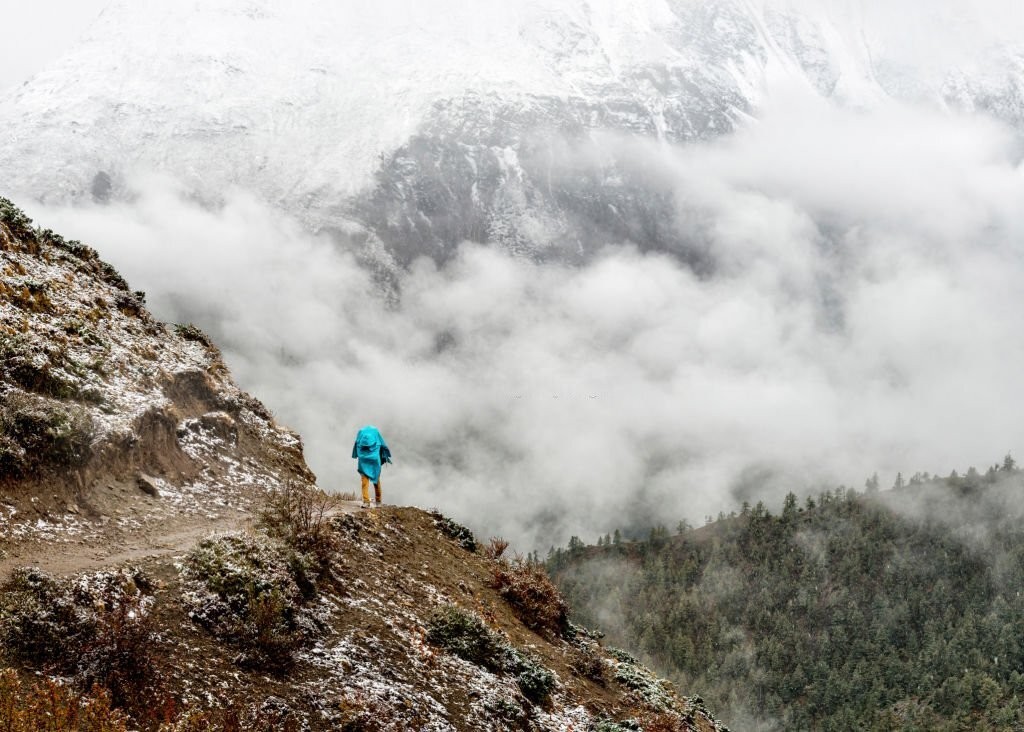 Best time to Visit Annapurna Circuit Trek:
Navigating through the enchanting paths of the Annapurna circuit is a dream for many adventurers. Identifying the most apt time frame is essential to fully embrace the natural grandeur that this trek has to offer. The best times to embark on the Annapurna circuit trek often hinge upon the transitional seasons, each bearing its unique charm and challenges.
Spring is a highly favored time for the Annapurna Circuit Trek. Blossoming rhododendron forests paint the trails with vibrant colors, and clear skies bestow breathtaking vistas of the towering peaks. The temperatures are moderate, making it comfortable for trekking, and the paths are mostly dry, offering stable footing.
Autumn (September to November):
Considered by many as the quintessential trekking season, Autumn brings forth crisp and clear weather, ensuring unobstructed views of the majestic Himalayas. The air is fresh, and temperatures, although starting to dip, remain relatively mild. The atmosphere during this season is lively, with many festivals occurring, enriching the cultural experience of the trek.
Winter (December to February):
Winter trekking in the Annapurna Circuit offers solitude and tranquility with fewer trekkers on the trail. The snow-draped landscapes are utterly mesmerizing, providing a different perspective of the region. However, the cold can be intense, and some passes may be closed due to snow, so thorough preparation and flexibility in plans are necessary.
Summer, coinciding with the monsoon, is less popular for trekking Annapurna Circuit due to the persistent rain, potential for landslides, and leeches along the trails. However, the lush, rejuvenated landscapes and cascading waterfalls introduce a unique beauty. Moreover, the paths are less crowded, offering a more solitary experience for trekkers who don't mind the wet conditions.
Annapurna Circuit Trek Cost:
As Annapurna Circuit Trek being the best selling and a favorite among many travellers, we've reduced costs more than ever before to make sure that as many tourists as possible can appreciate the magnificence of the Annapurna Circuit from ✔ US$ 1150 to US$ 950.
18% Off Straight on the Annapurna Circuit Trek Package.
---
Significance of Annapurna Circuit Trek
The Annapurna Circuit Trek holds a special place in the hearts of trekkers worldwide. Not only does it offer a stunning panorama of the Annapurna massif, but it also immerses trekkers in the rich culture and biodiversity of the region. As you journey through traditional Gurung and Magar villages, you're woven into a tapestry of cultural heritage, deeply-rooted traditions, and warm-hearted hospitality. The trek is a blend of natural wonders, from dense rhododendron forests to shimmering snow-clad peaks, making it more than just a physical journey – it's a spiritual odyssey, connecting one with nature and oneself.
---
How Difficult is Trekking to Annapurna Circuit?
Trekking the Annapurna Circuit encompasses diverse terrains, changing altitudes, and varying weather conditions, presenting a balanced mix of challenges and excitement. While accessible to most avid trekkers, it still demands a respectable level of fitness and mental preparedness. Embrace the following challenges with adequate preparation and a strong mindset to fully engage with and enjoy the unparalleled beauty and cultural richness of the Annapurna Circuit Trek.
Acute Mountain Sickness (AMS) is a critical concern when embarking on the Annapurna Circuit Trek. As you ascend above 2,500 meters, the atmospheric pressure decreases, which can lead to insufficient oxygen absorption by the body. Symptoms such as headache, nausea, loss of appetite, and dizziness are common and can escalate if ignored. To mitigate the risks, trekkers should adopt a gradual ascent, ensure proper acclimatization, stay hydrated, and avoid alcohol. Importantly, always listen to your body and be willing to descend if symptoms persist.
Navigating through the Annapurna Circuit involves tackling a diverse range of terrains. From the rocky paths that demand durable, supportive footwear to steep ascents that test your leg strength and potential snow-covered trails requiring careful navigation, each segment introduces a new challenge. Engaging with varied terrains not only demands physical preparedness but also mental resilience to adapt and proceed with caution and confidence, ensuring a safe and enjoyable trekking experience.
The Annapurna Circuit ushers trekkers through an array of weather conditions. The clear, sunny days may quickly give way to sudden rainfall or snowfall, and temperatures can plummet, especially during evenings and at higher altitudes. Such fluctuations necessitate thorough preparation, including waterproof gear, layered clothing, and perhaps even crampons for icy paths. A comprehensive understanding of the seasonal weather patterns and preparing for contingencies are crucial to safeguarding your trekking adventure.
Endurance is key on the Annapurna Circuit Trek as trekkers often find themselves on the trail for six hours or more per day. The continuous walking, coupled with carrying a pack and navigating through diverse terrains, can be strenuous and energy-draining. Therefore, pre-trek training that focuses on building stamina, leg strength, and overall physical fitness is vital to ensure you can relish each day's journey without succumbing to excessive fatigue.
Certain stretches of the Annapurna Circuit traverse through relatively remote locations, which, while offering serene landscapes and a sense of untouched wilderness, also mean limited access to amenities and help if needed. In these isolated sections, trekkers must be self-sufficient, carrying enough supplies and being prepared to manage any unforeseen circumstances or emergencies. The remoteness adds to the adventure but also underlines the importance of prudent planning and readiness to handle the unexpected.
---
Accommodation while Trekking Annapurna Circuit:
Ensuring comfort and a restful night's sleep after a day of trekking, the accommodation options along the Annapurna Circuit effectively cater to travelers. In general, trekkers can expect teahouses and lodges that offer basic facilities, ensuring a comfortable and authentic experience in the Himalayas. In the lower elevations, accommodations might afford a bit more luxury with options for private bathrooms and internet connectivity, while higher altitudes present simpler amenities.
Teahouses typically provide meals, offering a range of dishes from traditional Nepali dhal bhat to various international cuisines to energize trekkers for their journey. It's worth noting that during peak trekking seasons, such as spring and autumn, accommodations might get quite booked. Therefore, either being prepared for basic stays or considering pre-booking during these busy periods is wise. Always ensure that the chosen rest spots for your Annapurna Circuit Trek align with your comfort needs and trekking rhythm to fully savor every moment on this spectacular route.
---
Annapurna Circuit Trek with Beyond the Limtis Treks:
Embarking on the Annapurna Circuit Trek unfolds an enriching journey into the spectacular vistas and vibrant culture of Nepal. With Beyond The Limits Treks, this is not just a trek, but a well-curated adventure that promises to etch everlasting memories of the Himalayas into your heart. Our experienced trek leaders navigate not only the diverse terrains but also weave in enriching stories and experiences, ensuring every step you take is more than just a physical journey, but a dive into the tales and traditions that enrich these ancient trails. BTLT ensures your adventure through the Annapurna Circuit Price is budget friendly and is wrapped in authenticity, safety, and meaningful interactions. Together, let's tread Beyond The Limits, crafting stories and experiences that linger, resonate, and enchant, forever.
---